The coastline throughout
Sandviken
used to host a wealth of industry. While some remains, there has been a more recent shift towards lucrative housing enterprises. At Sandviksboder 77-78, within the property of
Rolf Olsen Saltimport a/s
we registered a kid hut project located on a small overhanging cliff facing the sea. At the time it was surrounded by abandoned industry, inviting explorations within old and precarious structures housing vermin and mechanical monsters. Like these buildings, little remains of the hut at present.
The site was located at a precipice which may have remained from previous demolition work in the area. A small shelf was accessible by climbing what resembled natural steps in the rock, housing several artefacts as well as a small provisory dwelling consisting of loose planks, rope and fur. Thus, the nature of the site was somewhat reminiscent of a miniature version of prehistoric
Pueblo
cliff dwellings in New Mexico and Arizona.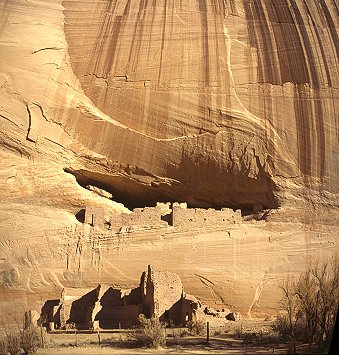 At the shelf we also found an old kitchen chair, but we were unable to determine its' proper age. Next to this, we also noticed an empty Coca-Cola bottle. Venturing to the south, balancing on a small crevice, we came across another part of the site which we imagined may have served as a kitchen, again concealing several artefacts which included a lamp shade stripped of fabric. The nature of the site and the plethora of abandoned artefacts made us concur that it is highly unlikely that this locality is connected to the previous localities, displaying markedly different cultural traits and craftmanship.